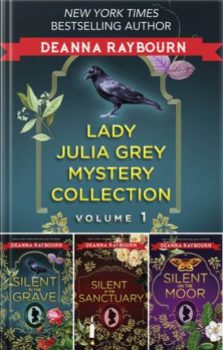 Lady Julia Grey Mystery #1-3
April 11, 2016

Lady Julia Grey Volume 1
Rediscover New York Times bestselling author Deanna Raybourn's beloved Lady Julia Grey mystery stories, and be swept up in a Victorian world of intrigue in the first three novels, together in a value box set.
Silent in the Grave
(originally published December 2006 in hardcover, December 2007 in mass market paperback, January 2009 in trade paperback and August 2015 and July 2019 in eBook)
The darling of London society, Sir Edward Grey, receives threatening letters from an unknown source. Before he can show them to Nicholas Brisbane, the private inquiry agent he has retained for his protection, Sir Edward collapses and dies at his London home. Determined to bring her husband's murderer to justice, the late Sir Edward's wife Julia engages the enigmatic Brisbane to help her investigate Edward's demise, following a trail of clues that lead her to ever closer to a killer who waits expectantly for her arrival.
Silent in the Sanctuary
(originally published December 2007 in trade paperback, February 2009 in mass market paperback and August 2015 and Augusut 2019 in eBook)
Fresh from a trip to Italy, Lady Julia returns to Sussex to find her father's estate crowded with family and friends. Much to her surprise, the one man she had hoped to forget—the enigmatic and compelling Nicholas Brisbane—is among the houseguests. But the homecoming celebrations quickly take a ghastly turn when one of the guests is found brutally murdered. Lady Julia resumes her unlikely and deliciously intriguing partnership with Nicholas Brisbane, setting out to unravel a tangle of deceit before the killer can strike again.
Silent on the Moor
(originally published March 2009 in trade paperback, August 2015 and September 2019 in eBook.
In Grimsgrave Hall, Nicholas Brisbane has inherited a ruined estate, replete with uncanny tenants and one unwanted houseguest: Lady Julia Grey. Lady Allenby and her daughters, dependent upon Brisbane and devastated by their fall in society, seem adrift, powerless to change their fortunes. But poison does not discriminate between classes, and a mystery unfolds from the rotten heart of Grimsgrave. Lady Julia may have to solve this particular one alone, as Brisbane appears inextricably tangled in its heinous twists and turns. But blood will out, and before spring comes, Lady Julia will have uncovered a long-buried legacy of malevolence and evil.