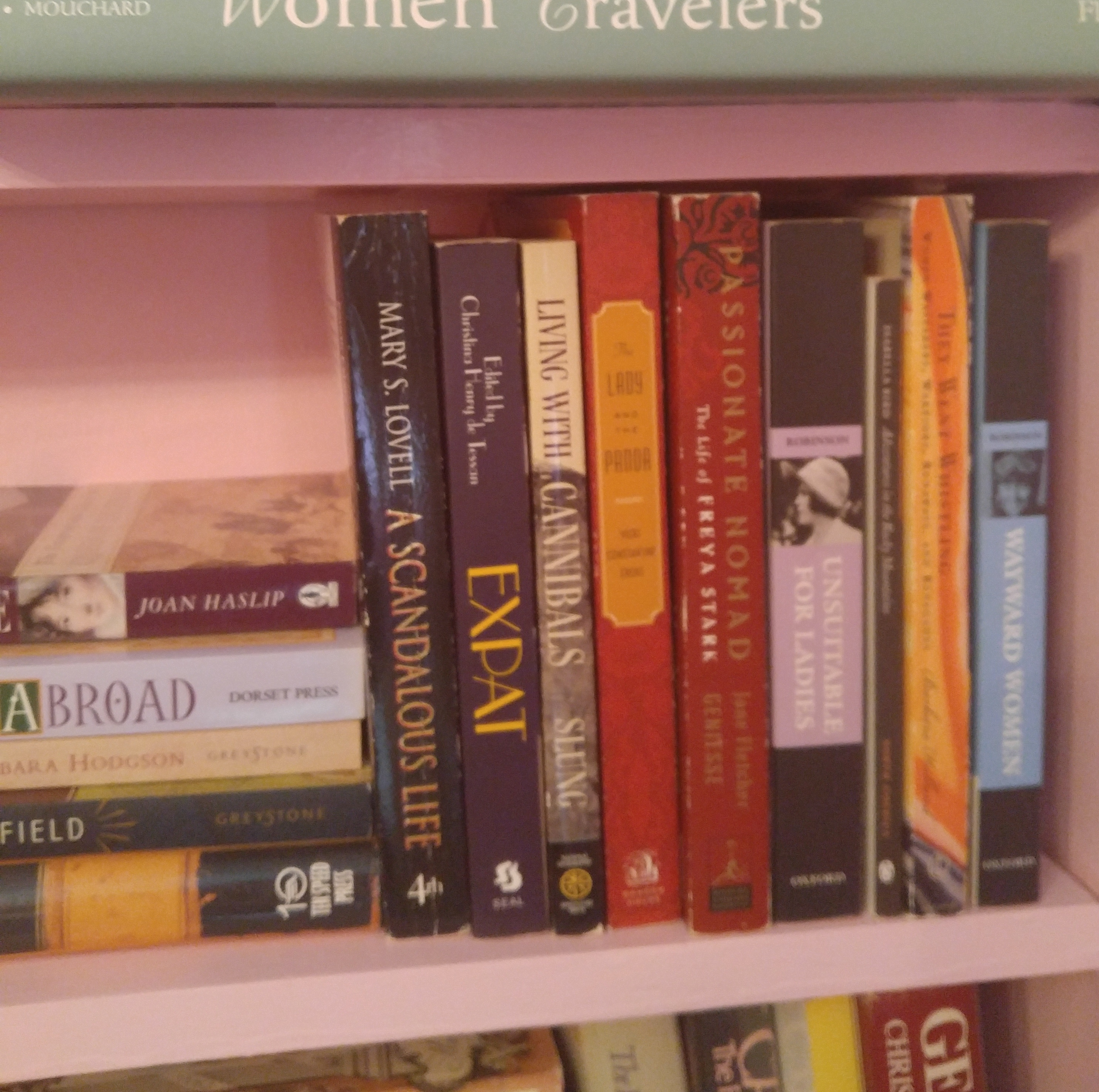 This one's a wee bit blurry–my apologies! Snapped it on the fly and didn't realize until I went to upload it that it wasn't perfectly clear. But it is good enough to give you an idea of what I'm recommending.
*Mary Lovell's A SCANDALOUS LIFE. Thorough and detailed biography of Jane Digby, the Englishwoman who left a string of noble European husbands and lovers in her wake. She finally married a Bedouin sheikh and adopted the customs of his culture, dividing her time between Damascus and the desert around Palmyra. One of history's most fascinating women, in my opinion.
*EXPAT: WOMEN'S TRUE TALES OF LIFE ABROAD. Ed. by Christina Henry de Tessan. Profiling modern women who have chosen to live in truly exotic settings, this one is not about the early explorers who inspired Veronica but about the spirit of the kind of woman who chooses an unconventional life.
*LIVING WITH CANNIBALS by Michelle Slung. Tales of early and modern travelers taken from the National Geographic Society's first-person accounts.
*Vicki Croke's THE LADY AND THE PANDA. This is one of my favorite nonfiction books EVER. It details the attempt by socialite and designer Ruth Harkness to travel to the most remote parts of China to bring the very first panda to the Western world. It reads like a novel and WHY no one has made this into a film yet beggars belief.
*Jane Fletcher Geniesse's PASSIONATE NOMAD: THE LIFE OF FREYA STARK. Good biographical introduction to Freya Stark for those who might not be familiar with her story. She has always struck me as someone who would be incredibly tiresome to know, but her story makes for fascinating reading.
*UNSUITABLE FOR LADIES, THEY WENT WHISTLING, WAYWARD WOMEN. You can't go wrong with any of these. WHISTLING is Barbara Holland's account of women who have gone largely unremarked upon by history–women who nonetheless made their mark. The other two are both by Jane Robinson and are good introductions to women whose lives you might like to read about in greater depth elsewhere.