Oh, my dearlings, I've been waiting to share this and now it's HERE! Some months back I read at Lady Jane's Salon in NYC and had the pleasure of meeting the glorious Hope Tarr, one of the founders. She approached me about contributing to a digital charity anthology she was organizing, and I leaped at it when told me what it was about: writing women and the men who love them. Who could resist that?? I got to tell the story of how I met and fell in love with my husband under a blue moon. (No, REALLY!)
And now the anthology is here, just in time for Valentine's Day! There are a PACK of fabulous authors in this thing, with essays about how they met their men, married them, and are living happily ever after. Some are funny, some are touching, and all are authentic. So support a superb cause–details below!–and order a copy today. You can even follow the project on social media. Come join us!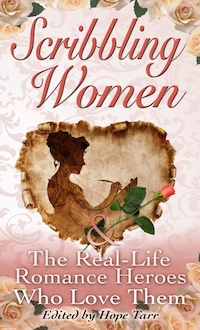 In Scribbling Women and the Real-Life Romance Heroes Who Love Them, twenty-eight popular romance fiction writers  reveal their real-life stories of how they met, wed and love—and are loved and supported by—their spouses and life partners. At times whimsical and laugh-out-loud funny, at others poignant and bittersweet, all unfailingly inspiring, each essay celebrates that most powerful and sacred of human bonds: love.
Happily Ever After isn't only the stuff of romance novels and fairy tales. It is every woman's birthright.
All net sales of the anthology support Win (www.winnyc.org).
Scribbling Women website link.