For the second year in a row, I am turning over the blog to guest posters for the month of December. And for the second year in a row, we've had a great response–thirty-three requests for spots! For the next month you'll be hearing from writers, editors, and other pros on a variety of topics. I always let the guest writers choose their own subject and give them carte blanche while they're here. There are no limitations on topic or language, and this time we've got everything from favorite words to sexsomnia! Since I will be hunkered down doing revisions on the first of my new books for NAL/Penguin, I am turning comments off for the month. Most posters will include links to their own sites if you want to follow up with them. So, I wish you all the best of holiday seasons–peace, prosperity, good health, and a fabulous start to 2015. See you in the new year!
Today's featured guest is Olivia Kelly.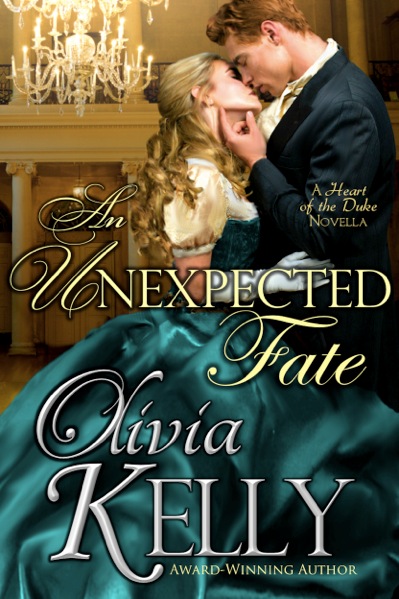 Lady Eleanore Barnaby does not believe in fate. Her future had been settled before she was even born. The firstborn girl of the Marquess of St. Aidans was to marry the Duke of Langley's heir and that, as they say, was that. It was even written down somewhere.
So when her friends dragged her to a local travelling caravan to have her fortune read, and she came away with a supposed magical locket and a prophecy of it belonging to the woman who would win the heart of a duke, Eleanore just rolled her eyes. Perhaps she doesn't have the heart of the recent Duke of Langley, or even his attention, but she has a betrothal contract and that's what is important. Surely the duke will fall in love with her, and her him… if he would just cease foisting her on his cousin to entertain.
Jacob Farrish is in love with the wrong woman. Or at least an inappropriate one. He's fairly sure lusting after his cousin's intended is going to send him straight to hell. Especially since he can't seem to stop baiting Lady Eleanore. If only she wasn't so adorable when nettled. But one night things almost go too far, and Jacob promises himself he will put her from his mind forever.
But there are just some promises a man can't keep.
A house party, magical locket, and a prophecy about the heart. One duke, one barrister, and one lady.
Things are about to get messy.
When Samantha Grace, Christi Cadwell, Elieen Fish, Robin Delany, and myself came up with the idea for The Heart of the Duke, we realized that even though there were multiple stories with multiple characters, this wasn't an anthology. It was one story in five parts. Well okay, seven parts, if you count the prologue and epilogue!
It's the story of a (maybe!) magical locket, that belongs to the woman who will win the heart of a duke. A traveling Romany fortune teller gifted it to my heroine Eleanore and her four friends, before they were old enough to debut in society. Not all the girls dreamed of marrying a duke, however… and only one was already promised to such a man. If only that promise was more about hearts, and less about contracts and lineages.
I like exploring the idea of fated love. That there's someone for everyone out there, that a soul mate is a real thing. In An Unexpected Fate, I got my chance to write a couple who has every reason to turn away from each other, but just can't let go. I also finally got my chance to write a ginger-haired hero, and I really enjoyed that. Like, a lot. Much. Enjoyment.
Basically, I pictured Eddie Redmayne the entire time. Such a hardship.
An Unexpected Fate will release at all major online retailers (Amazon, Nook, Kobe, iTunes, etc.) on January 2, 2015. There will be a new, short prologue and epilogue, different than the one in The Heart of the Duke. The novella will also include excerpts from each of the other novellas in The Heart of the Duke, and a special teaser from my next Regency story, A Lady Beguiled.
In the meantime, you can find me on Facebook, Twitter, or my website. Come by for the romance, stay for the goofy puppy pictures. Thanks for dropping by the lovely Deanna Raybourn's blog today, and I hope you enjoy reading An Unexpected Fate as much as I enjoyed writing it.
My website: Oliviakellyauthor.com
Twitter: https://twitter.com/OliviaKelly_
Facebook: https://www.facebook.com/olivia.kelly.10