For the second year in a row, I am turning over the blog to guest posters for the month of December. And for the second year in a row, we've had a great response–thirty-three requests for spots! For the next month you'll be hearing from writers, editors, and other pros on a variety of topics. I always let the guest writers choose their own subject and give them carte blanche while they're here. There are no limitations on topic or language, and this time we've got everything from favorite words to sexsomnia! Since I will be hunkered down doing revisions on the first of my new books for NAL/Penguin, I am turning comments off for the month. Most posters will include links to their own sites if you want to follow up with them. So, I wish you all the best of holiday seasons–peace, prosperity, good health, and a fabulous start to 2015. See you in the new year!
Today we welcome Theresa Romain.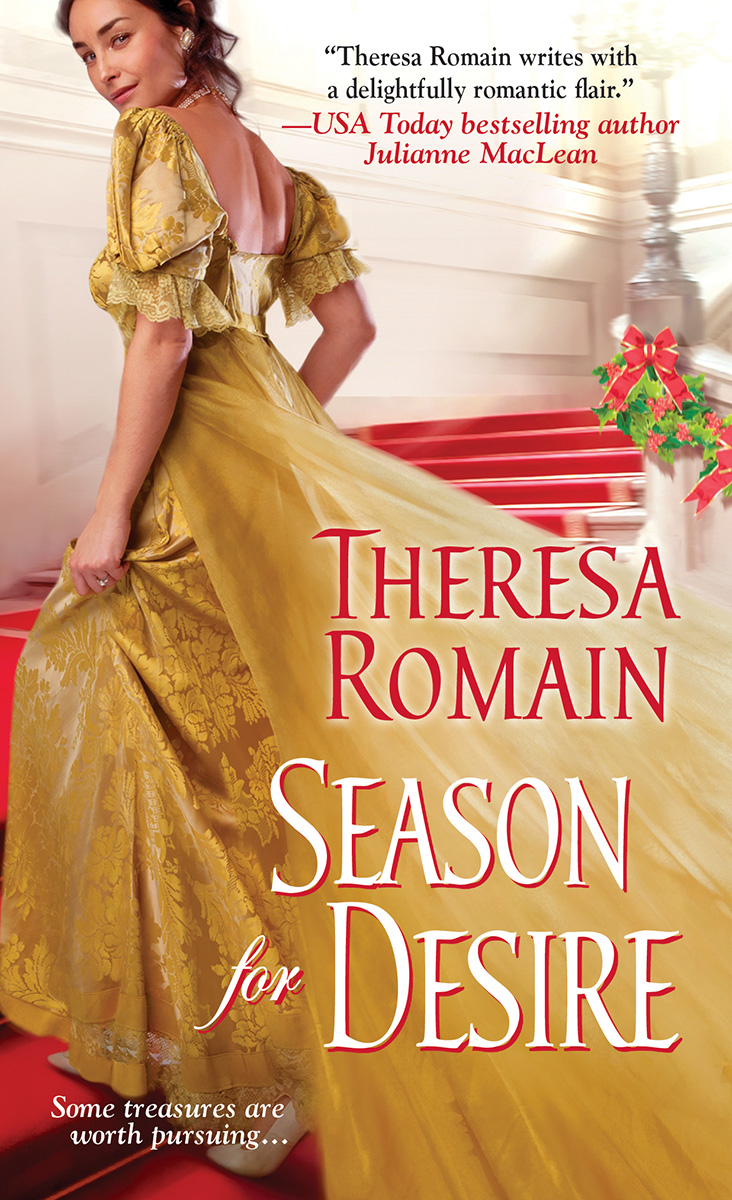 Deanna, thanks for the chance to blog with you today!
Readers, if you're like me, you might be cowering a little at the barrage of must-do and must-see December always brings. I'm on the introverted side, and sometimes I need to run off for a break, to recharge and remind myself of what I really want and need.
There's a big difference between choosing to be alone and having to be alone, though. Today I'm sharing an excerpt from my holiday historical romance SEASON FOR DESIRE. The heroine, Audrina, has been spirited away from London by a fortune-hunter. She's then pulled into company with an old family friend and a pair of Americans (widowed father Richard and oh-so-handsome son Giles) on a treasure hunt across Yorkshire.
At this point in the story, then, she finds herself on some other family's quest, in some other family's house.
*          *          *
By the time Audrina located an ancient bottle of ink and a few quills in the pigeonhole of a writing desk, the drawing room had rearranged itself. The tea table was abandoned, the puzzle box winking like a forgotten gift. Lord and Lady Dudley had eased themselves onto a velvet-covered settee that, like every other piece of furniture in the room, bore the claw marks of canine enthusiasm.
And Giles Rutherford stood atop a dark-upholstered side chair before the fireplace, hanging a bit of garland over the hands of a stone relief sculpture of an angel who already had a fistful of mistletoe to go with her smug smile.
"Move the garland to the left," said Lady Irving. "No, that's too far. Back to the right again."
"He mustn't cover up the mistletoe," said Richard.
"Go find yourself a sleigh bell to play with, Rutherford," barked Lady Irving. "I'll handle this."
"I'm going to fetch the dogs back from the stable," decided Lady Dudley, rising with some effort.
From his perch on the chair, Giles Rutherford grinned down at the clamor. A dimple carved itself into his right cheek, giving the hard lines of his face a soft place for the eyes to linger.
Since he wasn't looking anywhere near Audrina's corner of the room, there was no harm in letting her eyes linger. And wander. And . . . and wonder. How did one get him to smile like that? He would have to admire a person first, she supposed; something he would never feel for Audrina after seeing her at her most shaken and low.
When he stretched to loop the evergreen garland over the hand of the angel, his plain wool coat hitched up—revealing that, though his gray trousers were loose-fitting in the leg, they hugged the taut curve of his arse closely.
Proper English ladies would no more look at a man in that way than they would visit the kitchens to learn how bread was made. Yet men looked at women in that way all the time. Evaluating them. Deciding whether they were worthy of desire.
Was she?
Llewellyn wanted only the money Audrina represented; her father only cared whether she reflected well on him. Here in York, she was alone and pallid in the color of half mourning. Her fists were full of stained quills and a black bottle of ink. Her hands were dirty.
Maybe this was why every gluttonous gaze at Giles Rutherford came twinned with wariness. Because he had been self-possessed when she was drugged and sick and folded into a ball in a strange corridor. Because her father was helping him find a treasure he didn't even believe in, when Audrina would be satisfied simply to have her life returned to normal.
And, just a little, she resented him for not looking ridiculous atop that small wood-framed chair, his large boots almost covering the dark seat cushion. The drooping sprig of mistletoe fell from the angel's hand, jostled by garland, and Giles picked it up from the mantel with careful fingers and tucked it gently back into the angel's grasp.
She resented the mistletoe, too.
*          *          *
Since this is a romance, I promise you a happily-ever-after in time for Christmas. Audrina finds her strength and decides on her own path—and so does Giles. They'll become stronger on their own first, so they don't have to be together. They choose it.
Want the rest of Giles and Audrina's story? I'll give away a copy of SEASON FOR DESIRE on my blog today, so please stop by: http://theresaromain.com/blog/
And if you'd like to chat, I love to connect with readers. You can find me on…
Facebook: http://www.facebook.com/AuthorTheresaRomain
Twitter: @TheresaRomain
Thanks again for joining me today for this post. I hope this holiday season brings you the company of your choosing, along with some solitude when you need it!