Every August I like to shake things up. Usually, I turn the blog over to the readers. This is the time for you to ask questions about the books, writing process, favorite lipsticks, whatever you like. This year, we're starting August with a bit of a twist. Posts for the last two weeks of August will be devoted to reader questions, as usual. Since August is going to be rawther demanding (with a nod to Eloise), I'm going to have y'all ask questions in the comments section of this entry, and will close them by August 1. There will be five post dates available to blog about reader questions, and I will combine some, but we may not get a chance to answer them all this year because I have an UBER-COOL blog project for September and October coming–all to lead up to the release of the new Lady Julia novella this autumn!
Now, onto what we're doing the FIRST two weeks of August: it's all about adventure, chickens! So buckle up because it's about to get fun. (What follows is the brainchild and creation of Alison Atlee, author of THE TYPEWRITER GIRL. Huge thanks to her for conjuring this!)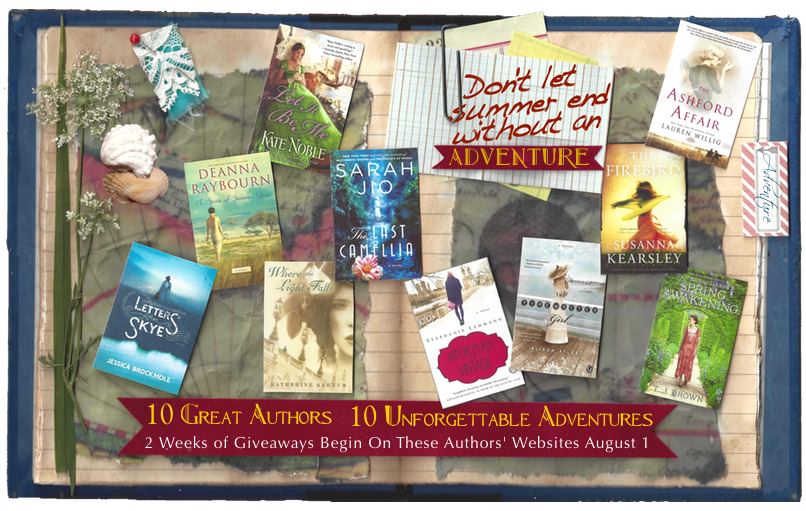 10 Great Authors, 10 Unforgettable Adventures
Don't let your summer end without an adventure! We've gathered ten stories from authors you already love and will love to discover, each one perfectly suited for deck chair adventures of travel, romance, mystery, and exploration.
And you can win them all. At least ten readers will win the adventure of the day, and our grand prize is a set of all ten books. All you have to do is answer the call to adventure: go to any of the participating authors' sites during  August 1-13 to see the featured book and find out how to enter. Every day's entry gets you another chance to win one book or the whole stack!
Here are your traveling companions and sneak peek of our itinerary. Remember, any of the authors' sites or Facebook pages will keep you updated on the day's giveaway and how to enter:
Alison Atlee, The Typewriter Girl    Facebook
Jessica Brockmole, Letters from Skye          Facebook
T.J. Brown, Summerset Abbey: Spring Awakening  Facebook      
Sarah Jio, The Last Camellia           Facebook
Susanna Kearsley, The Firebird      Facebook
Katherine Keenum, Where the Light Falls            
Stephanie Lehmann, Astor Place Vintage    Facebook
Kate Noble, Let It Be Me        Facebook
Deanna Raybourn, A Spear of Summer Grass         Facebook
Lauren Willig, The Ashford Affair    Facebook
Looking forward to our journeys together. Bon voyage, and thank you!