So the other day a reader asked in passing whether I preferred to read print books or digital, and it got me thinking that the way I read is odd. I have a system that's quirky but works for me and makes sense–at least in my own head.
My first choice is a print book in a trade edition. I don't love mass markets because the print is soooooo small. (A common grump amongst those of us over 40.) I don't love hardcovers because they're too heavy–especially in the bathtub. I will read those versions if there's no other way to get hold of a book, but if I have a choice between either of those and trade, it's trade all the way. There's significantly more white space than in a mass market which is easier on the eyes.
For my ereader–and I have a Kindle–I download novels. (This avoids the mass market tiny print issue if there's not a trade edition of a book.) My other use for my Kindle is the out-of-print books that have been digitized and are in the public domain. MANY times I have needed a research book that was difficult to track down or exorbitantly expensive in print, only to find it was free for Kindle. So I snap those up even though I really, really don't like reading my research on an ereader. I find I retain much more of the material if I can mark it up as I go–some books I read with a pencil in hand at all times to highlight passages I don't want to forget. When I finish with a research book, it's usually covered in pencil marks and bristling with tiny post-its. I tend to visualize where I saw something in a book which makes it easy to find later. This is almost impossible with a digital edition, so it's my last resort for research material.
I also use my Kindle to download samples of books that I later purchase in print form. It's a quick way to screen books and weed out what doesn't thrill me as well as a handy reminder of books I wanted to track down at the library or bookstore. (I'm still lamenting the fact that I can't sort the books into folders!) I also use the Kindle for reading manuscripts that friends send along before publication–the conversion to a Kindle doc is FAR easier than trying to scroll through an attachment to your email or printing out 500 pages of a pal's book.
And I purchase multiple copies of favorite books just to have them handy in different formats. Some are free–Jane Austen, Sherlock Holmes, even some Agatha Christie–but others are just too loved to be without. In that category you'd find Dodie Smith, Victoria Holt, Mary Stewart, Sarah Caudwell, Elizabeth Peters, Alan Bradley, and FINALLY Daphne du Maurier. I have print copies of all these authors, but the digital books are a security blanket, ensuring I never have to go without.
And here's a photo of me actually reading–from SCRIBBLING WOMEN at Lady Jane's Salon in NYC in June: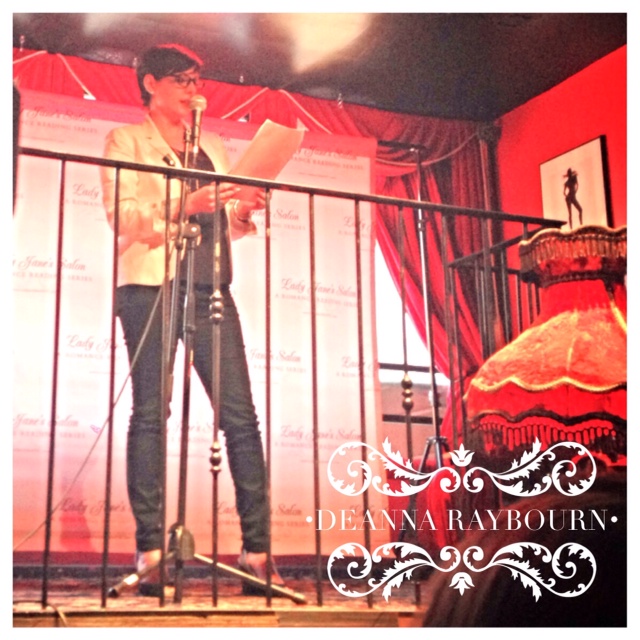 What about you, chickens? How do YOU read?