Hello, chickens, and Happy Halloween! I'm back from a wonderful time in New York. The weather was superb, the meeting with the folks at NAL/Penguin could not have been more awesome, and I'm ready to get back to work tomorrow tackling the last round of revision of the new book before it gets turned in on November 15! I tweeted a bit about the train trip up, and here are a few things I learned from my first encounter with Amtrak:
*Book a sleeperette whenever you can. I roughed out the trip via train and plane, and–factoring in security, inconveniences, wait times, taxis, cost, etc.–figured out the train was ever so slightly better of a deal. It was almost the same price to the penny when you count the taxi fare to and from LaGuardia, and the little bit of extra time spent traveling was MORE than balanced by the privacy and luxury of a private compartment. The sleeperette is priced as a whole compartment and costs the same regardless of whether one or two of you are traveling. It also includes meals!
*If you don't groove to eating with a table full of strangers in the dining car, the porter will bring your meals to the sleeperette.
*Yes, that is a toilet INSIDE the compartment. If you're traveling with someone, just alternate who steps into the corridor while the other uses the facilities. There's a shower compartment down the corridor, and other toilets in other cars if you prefer. Luckily, there is also a sink in the compartment. Oh, and while it will definitely occur to you to shut the corridor curtains before you attend to your ablutions, you might forget to shut the window curtains and you will accidentally moon Maryland. Not that I did that or anything.
*Order the cheesecake for dessert. Always order the cheesecake.
*It's acceptable and lovely to tip your porter for the many kindly services like baggage handling and bringing your food.
*They claim they have wifi, but neither of my devices ever detected it. Be prepared to do without.
*If you book a sleeperette and you're leaving out of Penn in NYC, you can make use of the Acela Lounge, otherwise known as the civilized place where they give you beverages and snacks and armchairs to make you comfortable until the usher comes to walk you to your train.
*Train travel is RIDICULOUSLY relaxing. I never realized quite how uptight I get when I fly. I thought it was just a generic travel thing, but no. Turns out, it's a flying thing because everyone from TSA to the airport layout to the airlines conspire to make you miserable. Being able to pack a bag and walk straight onto a train from about twenty steps away is just a LUXURY. Also, it's odd but I've never realized before how tiring it is to be completely in public with random strangers. In a sleeperette you can take off your shoes, prop your feet up, make stupid faces when you read–all the things you might hesitate to do when you're surrounded by other travelers and trying not to be THAT PERSON. Your music can be cranked up (within reason), you can stare out the massive windows and watch the world go by, and you can stretch out–small pleasures, but important ones when you're stuck in transit for seven hours. In short, I am now a fan.
While I was in New York, I FINALLY got my second tattoo! I've been wanting one for ages, but it took me a long time to find an artist I trusted to create a design. After my husband's excellent experience at Red Rocket, I chose Erica Flannes based on her amazing portfolio. Here's the result: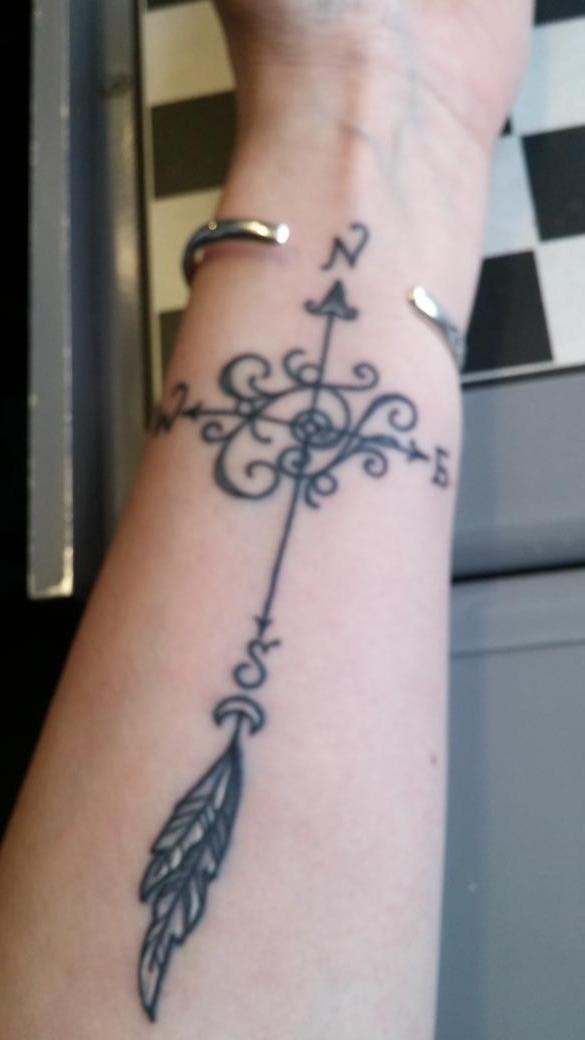 Photo is a little blurry because the train was moving when I took it!
Anyway, I'm back to work tomorrow on revisions–will have lots of exciting things to share in the months to come from my fabulous new pals at NAL/Penguin! In the meantime, Happy Halloween!