To celebrate the release of her latest Lady Darby mystery, AS DEATH DRAWS NEAR, the delightful Anna Lee Huber popped by to share a post. Yay! Catch up with Anna and get all the up-to-date info at her site.
Off the Beaten Path in Rathfarnham. Ireland with Anna Lee Huber
I chose Rathfarnham, Ireland as the setting for my next book in the Lady Darby series, AS DEATH DRAWS NEAR, solely because it had a working abbey and school in 1831, and it was also convenient to Dublin. But once I began researching the area, I realized I'd stumbled upon a treasure trove of interesting buildings and history, some of which I used and some of which I didn't. Most people recognize the name Rathfarnham and the Sisters of Loreto in conjunction with Mother Teresa of Calcutta, who trained at Rathfarnham Abbey in 1928 to learn English for missionary work, but there is also so much more. Without giving away any spoilers from the book, I would love to share with you some of the most fascinating details I wasn't able to include.
Rathfarnham Castle does appear in the book, but there were some intriguing facts I wasn't able to weave in. Such as its connection to the hellfire club, and the skeletal remains of a young woman found in the hollow walls in 1880. She was purportedly a young maiden who was locked in a secret compartment during a ball while her two suitors dueled for her affections, killing each other and taking the secret of her location to their graves. Some of the current cushions on the furniture are supposed to have been made from her silk dress! How deliciously morbid.
Though now separated from the castle's property, Lord Ely's Arch was the original entrance to Rathfarnham Castle. It was built sometime between 1769 and 1783, and in February 1841 was the scene of a shocking murder. Newspapers reported it as "one of the most horrible and cold-blooded murders perpetuated in this country for the last century." A man was tried and hanged for the crime, but it's uncertain whether the real culprit was ever actually apprehended.
There are a large number of gentleman's residences in the area, including the Hermitage, or as it was known later, St Enda's. This was the home of Edward Hudson, an eminent dentist, until his death in 1821. At the time he owned it, the property was called the Fields of Odin or Oden. Hudson had a passion for Irish antiquities, and consequently constructed a series of rather romantic ruins all over his estate. Built from rough stone to make them appear much older, these follies included a watchtower near the entrance gates; a hermit's cave; a dolmen, which is a type of single-chamber megalithic tomb; a ruined abbey; a grotto; a temple; a Brehon's chair, another type of sacred megalithic site; and many more. He even erected two boulders balanced one on top of the other and inscribed a fake ancient inscription, which mentioned his eminent self. Of course.
Not far from Rathfarnham Abbey stand the remains of another curious structure. Known as the Bottle Tower or Hall's Barn, it was built in 1742 by Major Hall in imitation of a Wonderful Barn near Leixlip. It contained fabulous timberwork and a spiral stone staircase from the barn on the first floor up to the residential spaces on the second and third floors. However, in 1795 it was converted into a boarding house by Mr. MI Kelly.
Rathfarnham is a remarkable place with an absorbing history. Well worth a visit if you're ever in this part of Ireland, though you'll have to look beyond the many layers of modernization.
(Rathfarnham Castle)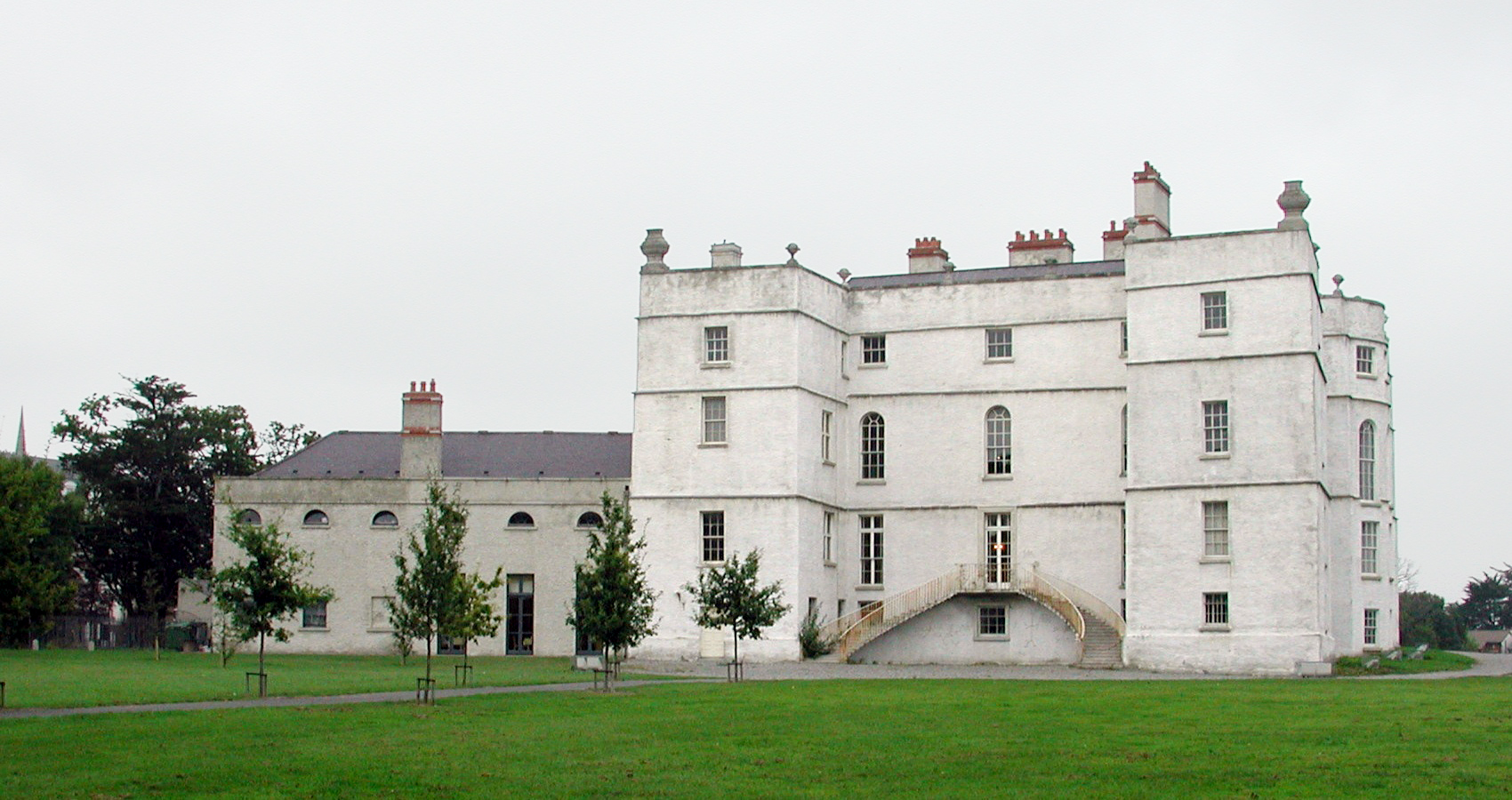 (Lord Ely's Arch)